End-of-Summer Skin Repair Necessities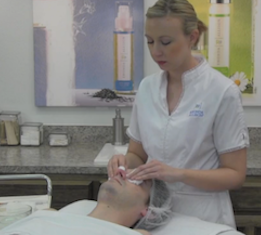 Labor Day is less than a week, which means the lazy days of summer will officially come to a screeching halt. This summer may have brought you to some exotic locations, extra time to catch up on reading or relaxing, endless pool time, and backyard barbecues. But, for some, it may have also brought some new skin challenges – acne, sunspots or more visible signs of aging.
How do you get your skin back to its pre-summer condition (or maybe even healthier)?
FOR ACNE
Let's start by eliminating as many of the culprits as possible. Some common causes include:
Increased sweat and oil production – inevitable, but we can clean it up
Dehydrating the skin – this can happen with air travel, too much time in the sun, not drinking enough water, or other internal causes
Suppressing the skin, such as under a hat or helmet – this traps oil, bacteria and dead cells in the skin
Certain sun screens can actually clog pores
THE REMEDY?
Cleanse daily – A good cleanser with salicylic acid will help keep oil in check and keep acne-prone skin clear. It will also rid the skin of any other impurities from the sweat. For quick clean-up jobs after sweating, turn to cleansing pads.
Wash your hat – try to wash your hat regularly or wipe out your helmet with an anti-bacterial wipe. Think about it, if you don't wash it, all that oil, sweat and debris is accumulating and sitting on your skin each time you wear it.
Sunscreen – opt for a zinc-based sunscreen. These are generally lightweight and non-greasy, which will help prevent break out.
Get toned – after each cleanse, follow with a good toner to help prevent dead cells from building up.
FOR SUNSPOTS AND AGING
Sunspots, age spots, brown spots or however you refer to them, can occur in any skin type – oily, dry, dark and light. While there are several contributors to age spots, the most common is the sun. This goes for aging too.
THE REMEDY?
Prevention – prevention is always the greatest form of defense against the visuals signs of aging and sunspots. As noted above a zinc-based sunscreen will help shield your skin from assaulting elements.
Take a trip to the man spa – skin care experts are trained to help with these challenges. Let them figure out the best course of action and give you a bit of relaxation time in the process.
Correct the situation – ingredients like lactic acid (L), an AHA with natural brightening abilities, or retinoids, a vitamin A derivative, will stimulate cell growth and regeneration.
Just keep in mind, with some simple care, you can get your skin back to its pre-summer condition – and likely even better than that.